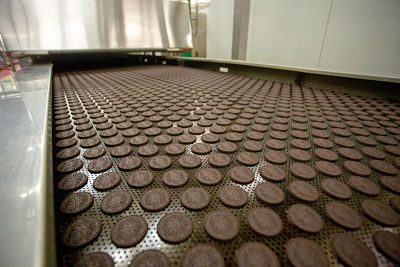 IPCO
IPCO is the world's largest manufacturer of steel bake oven belts, supplying OEMs and end users around the world.
Belts can be produced in solid or perforated form, and are suitable for products as diverse as bread, biscuits, brownies, crackers, pastries, sponges, all-butter cookies and pizza bases.
As well as supplying belts, the company can provide engineering support to ensure optimized long-term belt performance and, if required, complete conveyors. A full range of ancillary equipment is available including active and passive belt alignment solutions such as belt edge detectors, guide rollers and compact/automatic tracking devices
Solid/perforated steel belt conveyors deliver exceptional bake quality due to the excellent heat transfer and thermal conductivity of the belt. Stability is also key: a steel belt keeps its shape and stays flat as it passes through the intense heat of the oven, resulting in consistent product quality.
The company can produce belts in widths from 800 mm to 3500 mm. This makes it possible to achieve significant improvements in productivity without having to invest in factory extensions or new facilities. An oven with a 1500 mm wide belt offers almost twice the productivity of one with an 800 mm belt without any increase in the line length. Upgrade to an oven with a 3200 mm belt or larger and throughput is increased by a factor of four.
Solid steel belts are lighter than wire mesh – perforated steel belts lighter still – so cost up to 30% less to heat. Each time the belt exits the baking chamber, it begins to cool and has to be heated up again so the savings are continuous. As much of 25% of an oven's energy consumption is needed to heat the belt, so these savings can be considerable.
The company has production facilities in Americas, Asia and Europe and a worldwide technical service organization. IPCO engineers have a wealth of experience in supporting the bakery industry so whatever the requirement – a new installation, an upgrade to an existing facility (from wire mesh to solid or perforated belt) or simply a replacement belt – an appropriate solution can be delivered. ©2019 Hand Media International Ltd. All rights reserved.