Natalie Sheil, Bakery Category Manager at Synergy Flavours, discusses the ways to recreate the authentic taste of dairy for vegan baked goods and deliver the taste experience consumers are craving.
Plant-based is still a relatively new claim in the bakery category, but it has seen significant growth in the past five years with product launches carrying a 'vegan' claim increasing by almost 170% since 2015.
In 2019, 22% of bread launches in the UK carried a vegan claim, rising to 27% in the first month of 2020. This is being driven by both a rise in plant-based innovation as well as some brands piggy-backing on the trend by adding 'vegan' claims to products that are intrinsically plant-based. 
The biscuit category is leading the way when it comes to plant-based innovation in the UK. This is largely being driven by a demand for more healthy snacking options. Generally, UK consumers perceive plant-based biscuits to be more natural (48%) and healthy (45%) than their conventional counterparts.
Cakes and pastries are however slightly lagging behind the trend in the rest of the bakery market as only 3% of cakes launched across Europe in 2019 carried a vegan claim (vs. 6% in the biscuit market). There is evidence to suggest that innovation in this area would be welcome as cakes with vegan credentials would appeal to 20% of cake consumers, rising to over a third in the under 35s . This split in interest between demographics suggests that there is more work to be done on the taste of these products with 51% of consumers saying that inferior taste is the primary barrier to making a switch to plant-based variants.
The challenge for plant-based bakers
The absence of eggs, milk, cream and butter in plant-based recipes makes delivering on richness and flavour particularly challenging for bakers. Synergy Flavours has been developing various plant-based bakery recipes including muffins, cookies, cakes, fillings, frostings and morning goods such as brioche. The Synergy team have been conducting sensory analysis on these recipes in order to understand the taste and aroma properties of plant-based baked goods.
Great tasting dairy-like richness, without the dairy
Synergy combines natural flavour creation with the expertise of its parent company, Carbery, to deliver a complete dairy taste experience. Dairy by Nature, Synergy's range of vegan dairy flavours can mimic the flavour character of real butters, creams, milk and cheese whilst also managing undesirable notes associated with many plant-based products on the market today. To find out more about our innovative range of vegan dairy flavours and masking solutions for plant-based bakers, visit our website: uk.synergytaste.com/dairy-flavours.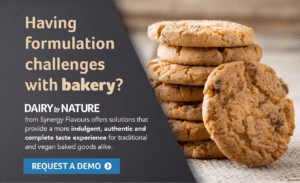 To stay up to date on the latest, trends, innovations, people news and company updates within the global bakery market please register to receive our newsletter here  

Media contact
Kiran Grewal
Editor, International Bakery
Tel: +44 (0) 1622 823 922
Email: editor@in-bakery.com