Bernd Siefert, world champion confectioner, passionate bread baker and author, tells International Bakery Editor, Kiran Grewal, all about current trends, the challenges of Covid and his preference for Sveba Dahlen ovens.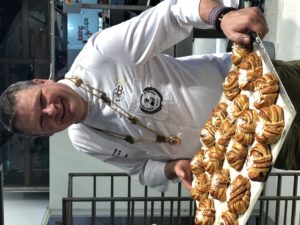 "I was born in my father's shop," Bernd Siefert laughs, indicating pastry-making is not just a job for him, it is his home and his life. "Since I was six years old, I was helping my father in the pastry shop. I always wanted to be a pilot or an artist, and never even thought to be a pastry chef. Now, here I am, not even just a pastry chef, but a world champion in pastry." 
Bernd Siefert, a household name in the confectionery and bakery world, displaying world class patisseries and expert crafting in sugar confectionery. Siefert boasts an impressive portfolio, currently in the process of writing his 14th book, making regular appearances on television and running the bakery of Café Siefert, giving him the opportunity to experiment and bring new flavours to the industry and consumers. 
"I have so many things I'm interested in," he admits. "I love photographs, I like opera singing. I have always wanted to do art, and this for me was the easiest way to do that." 
Before the lockdown, Siefert spent a good proportion of his time travelling around the world, seeing bakeries and pastry shops, consulting for various companies and developing current trends. Unfortunately, the coronavirus pandemic has put a swift stop to that, and Siefert stresses it changed his entire process.  
"I live in the countryside in a small village, and it's famous because of the ancient buildings.  We have roman wall here near to my hometown, and the oldest building is 1,200 years old. This area and its businesses relied heavily on tourism, because people wanted to see old Germany, but since the pandemic hit, nobody came." 
His consulting work and television jobs had come to a halt too. "There was nearly nothing," Siefert sighs. "I couldn't do any seminars anymore as they're normally held at my place for amateur confectioners and bakers, for professionals I go to the Richman School, or Taubenheim to the German bakery school, but all of this had stopped," he explains. 
With his usual busy schedule completely wiped away, Siefert felt he was at a loss at what do to next. "After Easter I called my friend and he said, 'why don't you bake bread?,' I said, 'I'm a pastry chef, of course I can do some bread but it's not my business.'  
"I took his advice, and I went to a lot of different places all around Germany with some friends of mine in the bakery industry," he says. Siefert wanted to focus specifically on the traditional styles of break making, making it from scratch and using local ingredients."
He continues: "I met a lot of old bakery chefs and they taught me the old style of making bread. For me, pastry has more taste, and bakery is all about the flavour and indulging in hearty, wholesome ingredients.
"At the end I found an old mill near to my place, which was built in 1513, so it has a fantastic long history. I called some friends in Italy and some in France and they taught me the traditional French baguettes and Panettone. And now, believe it or not, we sell panettone to Italy," he adds.  
Getting back to basics 
Prior to Covid, Siefert's business delivered to Singapore airlines and British Airways. He previously had 28 employees in his shop, but since the pandemic spread and lockdown began, he had to figure out a new way to work and explore other options in the world of bakery. His new-found love for bread making has proven to be a favourite among his other many talents. 
"I really love bread making," he nods. "I want to go to Sweden to see what they are doing in bread. I want to do a world tour for bakery. I have so many friends all over the world, in Germany, France, Austria, Switzerland, US, and Asia, Japan, Singapore, China, all over the world. I want to use these contacts to learn more about artisan bread making and baking." 
Siefert says he believes the market is going to thrive in the future, as consumers care more for quality of a product, local ingredients and fresh taste, the bread market will see increased growth. "The difference is the flour, the difference is the person is making the bread for you and not just a machine, and there are a lot of people spending quite a lot of money in bread for these reasons," he explains.
"For the last four or five years now, the Sveba Dahlen ovens have completely transformed what it means to bake at home for me"

When looking at the current trends in bakery, Siefert says: "At the moment it is regional ingredients, biological ingredients, that's the more important trend for me.
"But also, people like to have some new tastes. For example, I do a bread now, with Korean fermented chilli paste inside, and garlic and spring onions.  This is from the countryside, not Frankfurt or Berlin, and customers are looking to travel through their food.
"I do quite a lot of holiday bread, I call it aloha, it's toasted bread with pineapple juice inside and fresh ginger. I have a Greek baguette with feta cheese and chilli, so people can do their journey without moving.  
Sveba Dahlen ovens 
During this time of home baking, Siefert has been using Sveba Dahlen's oven, as it is the perfect partner for professional bakers. 
"I was so lucky when I got the first one, and now I have a second from Sveba Dahlen. For the last four or five years now, the Sveba Dahlen ovens have completely transformed what it means to bake at home for me. Sveba Dahlen in my opinion is one of the best ovens you can find, especially as you can adjust the functions for almost everything, and I have the eco version, so it is fantastic for saving energy!" Siefert says. 
The making of a world champion in confectionery 
"My father opened the pastry shop, more than 50 years ago. Generations of Siefert's have lived in our family home since 1793 and our family history was always about food," he says.
Café Siefert is a legacy of confectionery and bakery craft, handed down from father to son. And although a young Bernd once did not see himself carrying on the family tradition, his achievements in the confectionery and bakery world have proved the talent is as natural as it comes.
"My father was a baker, I was just a pastry chef, and after I did my apprenticeship in my father's place in Wilhelm, I decided I wanted to go abroad. I went to Zurich, Paris, London, and many other places. I went to Harrods, Knightsbridge, several fancy Michelin star restaurants, especially in France. I was initially really focused on French pastry, but now as I am getting older, I like to have the cakes of my childhood. Now I am more focused on great taste instead of elaborate luxury dining," Siefert explains. 
Before the age of 30, Siefert won the title of 'World Confectionery Champion'. This was a lengthy process that wasn't achieved overnight, to which Siefert recalls: "It was one of the most stressful things I ever did in my life. But it changed my life." 
Siefert first won the German National Championships six times before moving on to the world championships. The first time in Milan, Siefert and his team came fourth, and he says he almost gave up: "I thought, maybe it's time to quit." But after a while, he and his team decided to give it one more try, and with his father's voice echoing in his ears, he dusted the icing sugar from his shoulders and gave it another go. 
"The championship was in Germany, and we trained for one month. We had to make ice cream for eight people, we had to do a big wedding cake with five layers, and we had to do sixteen chocolates, eight different ones, eight petit fours, sixteen pieces and so on. This was all over 18 hours in three days, it was like a marathon. I lost six kilos!" he laughs. 
After winning the competition, Siefert turned his attention to writing books to share his knowledge to the wider audience. "I now have 13 books, two titles in both English and German," he says. 
"The last two books were about the French way of individual cakes and the last one was about chocolates, because it's one of my passions. I love chocolate. When I go to my family in Uganda, I always need to find some places where they plant cocoa trees. I just find it fascinating." 
Looking to the future 
Siefert is now looking at developing his newfound love for bread making and sharing it on social media. "The next thing I'm working on is on Instagram where you can watch me baking bread," he says. "But I also working on my next book, which will be all about bread baking from the barbecue. It is a completely different take on artisan baking, and I am excited about sharing this with the world. I am still looking for an editor, so we will see."
This will be Siefert's 14th book, I ask if he has inspiration for more. "I'm 54 now, I'm sure I still have time to do even more," he laughs. Whilst authoring these books, the potential for more television shows is coming back, and Siefert will still look to feature in more Netflix shows. "There is some talk about a new tv show in Germany," he nods. "Now I'm a consultant, so I'm usually a judge on these kinds of shows. We will see!" 
For now, he is still focused on his unexpected fascination in bread, and we cannot wait to see what he produces next. "In pastry, there are an abundance of ingredients, with tiny adjustments and the techniques can be difficult. Siefert says: "In bread you just have flour, water, yeast and salt and it's so unbelievable what you can do. Look at how many tools you have in just four ingredients. It really surprises me, and I look forward to continue to be surprised in this art."
Image credit: Sveba Dahlen
To stay up to date on the latest, trends, innovations, people news and company updates within the global bakery market please register to receive our newsletter here. 
Media contact
Kiran Grewal
Editor, International Bakery
Tel: +44 (0) 1622 823 922
Email: editor@in-bakery.com