Zeelandia and FrieslandCampina discuss how partnerships are key to create cakes that ticks all the boxes, while Fatherson Bakery notes a growth in indulgence led purchasing
The baking industry landscape is changing. As both consumer and customer expectations become increasingly complex, manufacturers are beginning to pool their expertise with a co-creation approach that is serving up new levels in indulgence, together with functionalities that harness the strengths of different disciplines.
Eelco van Oosterbosch, Global Category Leader at the Royal Zeelandia Group and Suzanne van den Eshof, Global Marketing Director at FrieslandCampina Ingredients Food & Beverages talks more about their partnership and how they came up with a successful solution that showcased the best of both worlds. 
Customer first
Bakery specialist Zeelandia and ingredients expert FrieslandCampina Food & Beverages recently joined forces to take a premium New York Cheesecake to new heights. The challenge was to eliminate the surface cracking which is a common quality issue in cheesecake. In addition, Zeelandia and FrieslandCampina wanted to add still more appeal to an already upmarket product by creating a "high quality, truly indulgent" cheesecake, while also improving the sustainability credits of the product. 
It was clear from the outset that coming up with a successful solution would call for the best brains in the two businesses to combine their areas of expertise. Equally clear was that the partnership approach had to be customer-centric, driven by an outside-in mindset that would result in "the real thing" in terms of taste – the single most important consumer criterion related to the organoleptic experience.
Throughout the quest to create the ultimate New Cheesecake, from exploring ideas to developing recipes and ultimately getting it out to bakers, the two companies worked hand-in-hand, with customer and end consumer satisfaction always front of mind. The real breakthrough in the co-creation journey came when R&D experts from the two companies cracked the ingredient and recipe code together. In parallel, sensory panels from both companies experienced an optimal sensory balance between delightfully sweet and fresh sour notes, a rich and creamy consistency, and a smooth and velvety mouthfeel. 
These were not easy tasks, and culminated in a new cheesecake mix including Nutri Whey protein and a Kievit Vana-Grasa fat powder together with a newly developed cream cheese from FrieslandCampina. The result is an easy to make, tempting treat which elevates the perfect cheesecake to a whole new level and allows bakers to offer fresh baking experiences at the highest quality levels. 
Neither company could have achieved such impressive results without sharing their expertise in a partnership based on the firm belief that greater strength comes in working together. Indeed, it is likely that collaborations like this will grow in importance and continue to be translated into next generation bakery, pastry and patisserie innovations.
Talking of trends…
As well as an increase in co-creation collaborations, the project helped to identify some other major trends.  
While taste always comes top in consumer decision-making, an all-round organoleptic experience is the real icing on the cake. Although the COVID-19 pandemic has seen an increase in home-baking, nothing meets consumer desire for sophisticated pastries like the foodservice solutions served up in their favourite café or restaurant. 
Zeelandia's innovations are based on mega technology and consumer trends combined with customer insights. In this case the 'high quality – true indulgence' trend. That is why both companies continue to commit to offer bakery customers sophisticated pastry ingredients with a range of high-quality solutions, pastry fillings and coverings made from real fruit.
This desire for multisensory experiences also reflects the findings of the annual Trend Report compiled by FrieslandCampina on the basis of its extensive research and unique online listening programme that tracks what thousands of consumers are talking about online.
The New Cheesecake, along with other heart-warming recipes in the company's Trend Report, cater to what has been coined 'Experience beyond the imagined': i.e. consumers crave the novel, the unexpected and an element of surprise. All of high quality. 
Coupled with the desire for uber-tasty treats, the 2020/2021 Trend Report showed that consumers are looking for food experiences that satisfy two further desires:
Shaping a better world – products with a low CO

2

footprint. The New Cheesecake developed by FrieslandCampina and Zeelandia uses local ingredients and production, so the frozen finished product no longer needs to be shipped across the world.

Conscious indulgence – consumers want food & beverages that provide a health benefit. 
Laurence Smith, owner of Fatherson Bakery, says: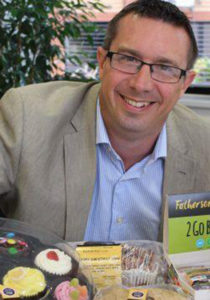 "With the impact of lockdown and Covid we are finding that most types of cakes remain very popular. Our best sellers including our award winning Lemon Drizzle, Rich Fruit and Jamaican Ginger remain strong while Victoria Sponge, Cup cakes and Butterfly cakes have seen a real surge for something a little more of a treat or indulgent. Our fruit pies have seen almost 50% growth with many consumers opting to freeze them and save for later. With no one being able to eat out over Valentine our valentine sales almost doubled compared to the same time last year and looking at predictions for Mothers day and Easter these are set to be strong as well. A move to spend a little bit more for quality and hand made / hand decorated has also really had an impact as Fatherson tastes like you made them at home.
As with most categories there are a wide range of consumers. Those who love a treat and balance health with indulgence so pick up a Fatherson treat item and those who are more health conscious opt for a smaller portion size cake or one of the Fatherson Gluten Free and Vegan snack bars. We have seen a clear move back to shorter shelf life products which deliver a fresher and more premium taste.
Fatherson has been going nearly 14 years now and we have a strong and loyal consumer following nationally. We have remained true to our word of "the taste of homemade" with every cake being made carefully by our experienced bakers to make sure the taste and flavour are second to none.  As we hand make and hand decorate every one our customers know the quality is there and they will enjoy the same experience time and time again.  We have an agile and flexible business and operate professionally for our customer with service at the heart of what we do. As we grow and interact directly via social media and marketing we are building stronger relationships with our customers."
Trends post-pandemic
What can we expect as we start to see glimmers that the spread of COVID-19 is beginning to slow?
Health: 
Health will continue to be high on consumers' agenda and their expectations here will evolve. But what constitutes 'healthy'? Sometimes it can mean taking out ingredients consumers perceive to be 'bad' such as certain sugars and fats. On the other hand, 'with added…' can be a major driver in consumer decision-making.  
Whey protein, one of the key ingredients in The New Cheesecake, is one example: not only does it prevent the cheesecake from cracking, protein-enriched recipes can also result in tasty pastry applications with a healthy twist as protein is an essential nutrient for the muscle growth and repair process.
Sustainability: 
As consumers' concerns for the planet as well as their personal health grow, we also see interest in vegan and plant-based continue their upward trajectory. Businesses like Cake Box are seeing online sales increase by 51% year on year as they roll out NPD which includes improved loaf cake ranges, with gluten-free and vegan options, alongside ready-made, egg-free custard. 
The impact of the growth in vegan foods is set to stay with us for the foreseeable future as the demand for vegan food and drink products continues to increase. It's more than a passing fad, it has become part and parcel of everyday meal choices throughout the UK and across all age groups.
The UK is one of the world's most vegan-friendly nations and customers are looking for products to incorporate into their sustainable lifestyles, with animal welfare, environmental topics and health becoming strong social issues with a long-term presence.
Veganism is now being referred to as a 'mega trend' by the media, especially as consumers are also altering their preferences in the light of the Covid-19 pandemic and are raising their focus on diet and healthy lifestyles. Utilising vegan products and adding them to the choice ensures that bakers capture a number of different audiences, including flexitarians and vegetarians. And it's not just reserved for savoury choices, it's also popular across sweet bakery products as well.
Sweet products give bakers extra scope to increase their range to include a choice of vegan items, as consumers expect to be able to purchase them. In a recent survey¹, over a third of all current bakery buyers aged 18-44 say they are interested in buying a vegan sweet treat. So, if bakery retailers don't stock these, then they could potentially be missing out on custom as 20% of UK consumers say that foodservice outlets promoting plant-based meals is something that could help better capture their attention, while 15% say that the availability of plant-based products directly influences the choice of outlet they visit. 
In an increasingly environmentally conscious world, there is growing interest in products that come from closer to home driven by concerns about the damage excessive food miles cause to the planet and the perception that local means fresh and can easily be traced back.
Sustainability will also be a major factor in the choice of ingredients. In recent years, the world has embraced the crucial importance of sustainable business practices, and of Corporate Social Responsibility (CSR) as an important foundation. The partnership between FrieslandCampina and Zeelandia subscribes to this philosophy, and aims to reduce the supply chain footprint. 
Consumers keen to decrease their footprint miles will increasingly seek ways to reduce their food miles. Shipping a powder mix at ambient temperature for local use is certainly more sustainable than keeping a whole cheesecake frozen on its journey. 
The companies that thrive will have to demonstrate the difference they are making by embedding sustainability as a key consideration in every step of their product and recipe design.
The impacts of COVID-19, coupled with consumers' increasing concerns about our planet, desire for indulgence and convenience, and expectations that the foods they love will simultaneously deliver incidental health and wellbeing benefits, make for a challenging time for manufacturers.
In response, the bakery sector will see a shift to more partnerships, greater openness and an increase in joint innovations. Under the motto 'stronger together', Zeelandia is open to bakers keen to discuss how the latest insights and consumer trends can be translated into the next bakery, pastry and patisserie innovations.
To stay up to date on the latest, trends, innovations, people news and company updates within the global bakery market please register to receive our newsletter here  

Media contact
Kiran Grewal
Editor, International Bakery
Tel: +44 (0) 1622 823 922
Email: editor@in-bakery.com