To reach the government guideline of 30g per day, consumers must make sure that in addition to choosing higher-fibre meal options, their snacks must also be rich in fibre. Bread is a staple source of fibre that can be eaten at any time of day, but this is often not enough to entice the diet-conscious consumer. So, what other options are being developed to ensure the target is being met? 
Erwan Inizan, Northern Europe Sales Director, Bridor says: "Fibre is a very important part of our diet and is something that many of us do not get enough of. The current recommendation is that adults should eat 30g of fibre a day, but the average intake of 18g a day falls significantly short of this. It has been common knowledge for a long time that fibre helps keep our digestive system healthy, however, research over the past 25 years has resulted in the discovery of many other benefits. High intakes of fibre have been associated with a lower risk of heart disease, stroke, type 2 diabetes and some cancers. Products must have an added edge, which is why French bakery manufacturer, Bridor, recently launched its specialty bread, l'Amibiote." 
l'Amibiote is an enriched fibre loaf and is what Bridor describe as one of their "greatest innovations". Its development took four years of research and scientific collaboration to create a nutritional bread that aims to go above and beyond.
"It contains seven vegetal fibres – a mix of wheat dextrin, oat flakes, inulin, locust bean gum, pectin, oat bran, micronised wheat bran. All of which were selected for their beneficial effects and result in its fibre content being three times more than a classic baguette. Furthermore, it also contains beta-glucans which helps in lowering cholesterol levels," explains Inizan.
Market growth for healthy and nutritional bakery
The market for healthy and nutritional bakery options has been steadily growing for years as many consumers have negative perceptions of bread, marking it unhealthy and calorific. The past 12 months has seen an acceleration of this trend as the COVID-19 pandemic has shifted consumer focus to healthy eating, which has become a higher priority for 30% of people.  
"We expect the health trend to continue growing from strength to strength and so we are manufacturing many of our NPD to accordingly. l'Amibiote is a perfect representation of Bridor's ongoing commitment to producing 'better for you' bakery products. Other healthy innovations we've launched in 2021 include our protein-rich bread, Legumi, which is made from a mix of nutritional pulses. The use of lentils, beans, and dried peas is particularly appealing as they have a low-fat content and are packed with vegetable protein and fibre, as well as vitamins and minerals, such as iron, zinc, folate, and magnesium," he says.  
Comparing bread trends with cakes 
When assessing consumer response to bakery, it is impossible to put bread and cakes in the same basket. The former is seen as an everyday staple with health and nutritional benefits, while the latter are pleasurable indulgences for more occasional use. It is very much a tale of two concepts. 
In line with this, it is also clear that cake consumers are bigger experimenters compared with their bread counterparts. A total of 44% of consumers say that they would experiment with flavour choices in cake versus 33% in bread. Furthermore, there are clear preferences for strong and innovative flavours in cakes, while bread consumers tend to prefer milder and more familiar tastes. 
There can also be regional distinctions among bakery consumers. For example, in eating occasions, breakfast is on average the most important time for bread consumption, but lunch takes the lead in parts of Europe. Meanwhile, cakes are most often eaten as afternoon snacks, but there are again regional differences. "In East Europe, cakes are most often eaten with the evening meal," reports Lu Ann Williams, Director of Innovation at Innova Market Insights. "But North Americans are most likely to choose cakes as evening snacks." 
It would be wrong to say that there are no similarities between bread and cakes, however. For example, taste is still the single most important choice factor in both categories. Similarly, freshness is also highly valued across bakery, although slightly more so in bread than cakes. A total of 59% of consumers expressed a clear preference for fresh bread versus just 16% who preferred products with longer shelf lives. Over half of all consumers would also pay more for fresh products, a figure that increases with age. 
There are also similarities in the bakery consumer's shopping habits. Although regular supermarkets dominate the purchase of both bread and cakes, just over one-third of consumers still buy them at local bakery shops. This is particularly pronounced in Latin America and Continental Europe, where over 40% of respondents use specialist outlets. 
Mintel Global Food and Drink Analyst Katya Witham looks at five ingredients that are making an impact on bakery and snacks this year: 
Seeds 
Seeds and kernels are nutrient powerhouses that have an opportunity to grow in bakery, cereals and snacks, offering new flavours, textures and nutrition. 
The health halo of seeds and kernels in snacks can inspire other categories to use these nutrient-dense ingredients. A high majority of nut and seed consumers in China agree nuts and seeds are high in protein and dietary fibre, and are a good source of vitamins (75%). Beyond bakery, in the US, more than two in five plant-based meat substitute consumers are interested in seeds as a source of protein in those products, according to Mintel research on plant-based proteins. 
"The COVID-19 pandemic has shifted consumer focus to healthy eating, which has become a higher priority for 30% of people"
While the growing usage of seeds can largely be attributed to positive messages around health, formulating with seeds can also add flavour and texture to an increasingly wide variety of snack foods and baked goods. Seeds that are underutilised, or unknown to consumers, can be added to a mix containing more common ingredients, such as ancient grains and nuts, to bring taste and texture. Especially in sweet goods, such as flapjacks, crackers, cookies and biscuits, seeds can be used to enhance health credentials while also striking a chord with those consumers looking for a sweet, yet more health-oriented treat without compromising on taste. 
Oats 
With their rich nutritional profile, versatility and eco-friendliness, oats are well placed to become a superstar ingredient across the bakery, snacks and cereal category. 
Not only are oats a healthy choice for consumers, but they are also healthy for the environment. They are particularly valuable in environmentally sustainable crop rotation systems, helping to ensure sound cropping and soil conservation practices. Oats are an ideal low-input crop that encourages diversity to reduce soil erosion and control plant diseases, insects and weeds. Recognised as an eco-friendly ingredient, oats can grow their presence in new product development across food and drink, providing a nutritious option for companies that are looking to create stronger sustainability practices. 
Probiotics 
Once the purview of dairy and savoury categories, probiotics have the potential to grow in bakery, snacks and breakfast cereals, offering gut-health-related benefits along with indulgence.
Probiotics offer several functional properties beyond gut health, including stimulation of the immune system. Probiotics that are proven to support immune health will appeal to consumers who are taking a proactive approach to health. While the immune system is complex, research is exploring the role probiotics may have in supporting the body's defense system. A recent study found that a combination of probiotics could significantly reduce the incidence of upper respiratory infections. The COVID-19 crisis is leaving consumers to grapple with uncertainty. Food and drink products that offer immune system support will appeal to consumers who are looking to protect themselves.  
Pulses 
Pulses and pulse flour have the potential to grow, especially in vegan products and gluten-free products that could benefit from a nutritional boost. 
For many reasons, pulses should be an obvious choice for manufacturers of bakery, snacks and cereals who are looking to bolster the 'plant power' halo of their products. Pulses are widely recognised and accepted by consumers globally as a plant-based source of protein and other nutrients. The COVID-19 pandemic should be a catalyst for increased inclusion of pulses in this space. Additionally, healthy pulses, such as chickpeas, lentils and fava beans, are staples in many ethnic cuisines, offering manufacturers a pathway for product innovation for convenience-seeking ethnic food explorers. 
Consumers increasingly look to their diet to improve both their personal health and planetary health and are interested in food and drink products that are natural sources of nutrients and also deliver on taste and address key sustainability issues. Beyond free-from and plant-based products, gut health could be the answer for bakery, snack and cereal brands looking for the next big health platform. 
 
Erwan Inizan, Northern Europe Sales Director, Bridor says: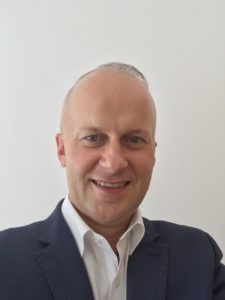 "The astonishing growth in sourdough's popularity is undeniable and is demonstrated by it nearly topping Google's 2020 Year in Search terms for the most-searched recipes as many took up baking over lockdown. A big reason for it becoming increasingly popular is the ease of digestibility in comparison to common bread.
The production of sourdough bread requires a slow fermentation process that makes it more digestible by ensuring the bioavailability of cereal minerals, which contribute to a good balance of microbiota. It is for this reason that Joël Doré, a microbiota expert at the National Institute of Agronomic and Environment Research (INRAE) recommended the use of sourdough in l'Amibiote.
The bread is available in a classic baguette (230g) and batard loaf (320g) formats in two variants: Amibiote and Amibiote with cereals and seeds. The addition of a delicious mix of sesame seeds, yellow and brown flaxseeds, sunflower seeds and malted wheat flakes, gives extra nutrition, flavour, and texture.
We chose this format as baguettes can easily be introduced into diets to substitute daily bakery products and are suitable for consumption at any time of day. Whether it's at breakfast with some jam smeared on top, at lunch with some tasty sandwich fillings in between, or at dinner to dip in soup. It offers consumers of all ages an easy way to diversify their fibre intake."
Matthias Engel, Dough Technologist at FRITSCH Bakery Technologies says: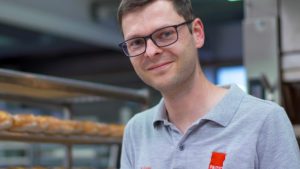 "Current trends revolve around the use of alternative flours like spelt flour and original grains such as the variety 'Emmer'. Besides of that we do also see an importance of aroma pairings such as the curry cranberry baguette, that we've been testing on our lines.
Plus, creativity makes the difference. The more colourful a product is or the more it catches the eyes of the consumers the higher is the potential for bakers of being recognised in the market – this also caused by the high impact of Social Media engagement. Creatively decorated rolls or bread by our FRITSCH Product Decoration Unit (PDU) can make such an important difference.
We do see a big trend and importance for rustic style breads –looking like hand made.
We do see a strong interest of the market in sourdough bread. Old production processes are being brought back. Sourdough bread is more digestible for the human body and has a characteristic taste, which many people enjoy. Plus, those doughs can be handled by a FRITSCH IMPRESSA bread line easily.
Irrespective of whether you would like to produce baguettes, ciabatta bread or speciality rolls, the IMPRESSA bread line offers the production of large quantities of artisan bread products to be produced economically and efficiently. The IMPRESSA bread line has been specially developed to process soft doughs. The developed SoftProcessing Technology by FRITSCH avoids unnecessary tension and compression in all process steps. This ensures that spongy dough remains spongy.
In general, a semi-automatic production would be recommended if you are producing smaller amounts of bread products. Even special products can be handled by our FRITSCH IMPRESSA bread."
To stay up to date on the latest, trends, innovations, people news and company updates within the global bakery market please register to receive our newsletter here. 
Media contact
Kiran Grewal
Editor, International Bakery
Tel: +44 (0) 1622 823 922
Email: editor@in-bakery.com