Leading independent London craft bakery Celtic Bakers Ltd launched a full range of sliced and bagged craft sourdoughs in February under its own brand. This represents a new departure for a part of the category where choice has historically been limited to very high-volume private label or big-brand loaves, and where craft brands can now reflect a surge in consumer interest.
Google's Year in Search report for 2020 said: "Despite everything around us, we were as inquisitive as ever before… this year searches for 'sourdough bread recipe' hit an all-time high." In a year where lockdown has brought our understanding of bread making, and sourdoughs in particular to the fore (49% increase in home baking spend, March-June: Kantar), interest has surged, and the packaged bread category can now capitalise on the UK love of "real" bread.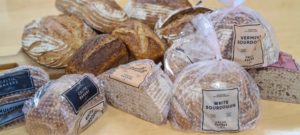 Celtic Bakers' "Tottenham Sourdough" range features four classic "boule" sourdoughs, sold as half loaves of 500g each, plus two tinned sourdoughs (also 500g). All of the products are organic and made with Shipton Mill flours- and all carry the "Real Sourdough" stamp of the Real Bread Campaign. They are all cold-fermented, meaning a total production time for each loaf of around 24 hours- and the breads all draw on Celtic Bakers' stock of aged sourdough starters.
The range launched nationally in Ocado on 15 February, with RRPs of £2.29 (White Sourdough, Vermont Sourdough), £2.49 (Seeded Sourdough) and £2.89 (Spelt Sourdough).
Toby Mitchell, Managing Director of Celtic Bakers said: "This is a really exciting step forward for the bread category. We have seen the value that can be added when a well-known and respected craft brand comes to the mainstream with an offer like this. As with the craft beer category, there has been a quantum leap in consumer understanding and appreciation of ingredients, method and traditions within the category- and yet the vast bulk of the market isn't reflecting the progress that's been made.
The 'sourdough revolution' of the past few years and latterly the lockdown home baking explosion has played a huge role in changing consumers' expectations of bread. Whilst there is a glut of so-called 'sourfaux' products out there, there is very little to reflect the experience of proper bread from a craft bakery staying faithful to time-honoured methods of production. The bread category is primed and ready for the value that can be created by craft brands".
A well-known name on the London craft food scene, Celtic Bakers Ltd has been producing breads, cakes and patisserie under both its own brand and as a wholesaler to London foodservice, for 25 years. From its bakery in Tottenham, Celtic supplies cafes, delis, food halls and restaurants throughout the capital.
To stay up to date on the latest, trends, innovations, people news and company updates within the global bakery market please register to receive our newsletter here  

Media contact
Kiran Grewal
Editor, International Bakery
Tel: +44 (0) 1622 823 922
Email: editor@in-bakery.com