International Bakery speaks to FRITSCH Group about high-performance industrial bread manufacturing and new technology which makes it possible to produce batch artisan products

Nowadays, a general bread making machine is clearly unable to meet the demand of consumers, and this is where an automated bread production line can make all the difference. In order to solve the problem that the supply is not adequate to the demand in the bread production process, using an automated service is a quicker and more controlled choice.
Bread is a baking food which takes wheat flour as the main raw material and takes yeast, egg, oil and nuts etc as the auxiliary materials, making bread dough by adding water, through dough kneading,  pressing, forming,  fermentation, baking and cooling, then bread is well made. The equipment needed for a successful bread production line is what will set products apart if you are looking for precise, accurate and uniform bread making. 
The main function of a dough mixer is to mix flour, water and other materials evenly. There are vacuum dough mixers and spiral dough mixers. This machine mainly consists of mixing tub, hook, driving device, control panel and machine seat. The spiral hook of the mixer is driven by the driving device to rotate in the mixing tub, and the mixing tub rotates at a constant speed by the driving device, flour in the tub is constantly and fully stirred and mixed quickly, so that the dry flour can get uniform hydration, expand gluten and become dough with a definite elasticity and flexibility.
The gluten quality and process performance can be judged by the following items:
Elasticity: the ability to return to its original state after compression or stretched.
Extensibility: character of not being broken after lengthening.
Deformability: the ability not to restore its original state after being compressed or stretched.
Tenacity: the resistance shown after stretching.
A dough divider machine can divide the dough into specified dough blocks evenly. Block and weigh the dough according to the requirements of specification. It is one of necessary combination models to realise the automation of bread forming production lines. It is crucial to realise automatic feeding and processing, and also it can help save labour force.
A dough pressing machine is an automatic dough kneading machine that takes the place of a traditional manual dough kneading method. By compressing with counter rotating rollers, the dough is kneaded with plasticity and extensibility in a certain thickness. It can achieve continuous dough pressing, and improve extensibility and smoothness of the dough by s-shaped continuous folding and pressing. It is equipped with an automatic dusting system, and the output dough thickness of pressing rollers is adjustable.
Through the extension of two pressing rollers and sheeting devices, the dough can be made glossier and make dough quality more stable. Finally, through a mainframe pressing roller, the dough will fall on the mainframe conveyor belt, and the dough will be rolled into strips by the bread roller device and auxiliary wheel. The Bread Forming Machine Mainframe can be equipped with a filling machine and shutter cutter machine to produce a variety of characteristics and shapes of bread.
Usually for food enterprises requiring scaled production, they prefer automatic tray arranging of food with machinery. You could choose or set different arranging or alignment ways according to quantity, diameter, arranging way of food product and other parameters, and the food products can be aligned onto the baking pans automatically and accurately.
FRITSCH automated bread production
FRITSCH supplies the IMPRESSA bread, a high-performance industrial bread-manufacturing line with gentle dough processing that has no problems mastering the automated high volume production of artisan baked goods. Table widths from 700 to 1,700 mm are used for a throughput of 500 – 10,000 kg/h. The IMPRESSA bread line was developed specially to process soft doughs and, due to the SoftProcessing Technology developed by FRITSCH, it prevents needless tensions and compacting at all steps in the process.
Moreover, all line configurations are designed to avoid drop heights and weight fluctuations. Due to its modular construction, it can be adapted flexibly and precisely to production wishes and the production environment. All of the market's customary hygiene requirements are taken into account, of course, and are implemented in an open design to enable all its parts to be cleaned quickly and simply.
A new dough sheeting system for very soft doughs The IMPRESSA bread uses a star roller to pre-portion dough gently and uniformly, and feeds it to a dough sheeter via a special conveyor belt – completely without any separating agent. Two different systems can be used at this point, depending on the initial dough and required end product. Maximum flexibility for artisan baked products.
Soft doughs, especially doughs with a slow method, are particularly challenging in the manufacturing process. However, breads produced from these doughs are requested increasingly often due to consumers' constantly growing health awareness. That's why FRITSCH developed the new SDS system (Soft Dough Sheeter). It is optimally suited to processing very soft doughs and large dough thicknesses with only minimal use of oil and very slight effects on the dough structure.
These are decisive advantages, since there is a developing trend towards processing ever softer, pre-proofed doughs with sponge dough and a bowl resting period. Thus the SDS is used especially for artisan Mediterranean bread and bread roll products with a hydration rate of 165 or above (up to hydration rate 190 depending on the grade of flour). The capacity ranges from 800 kg to five tons.
Dough is supplied to the SDS from a bowl tipper into a special receiving cone that feeds it into the star roller system to divide off portions of dough. A separating agent can be applied to the movable cone walls if necessary. The system ensures a constant filling level above the divider system, resulting in the divided-off dough portions having constant weights. This creates the essential basis for all the dough strands to be divided off gently and with the same dough structure and accurate weights. The divided dough strand is gently transferred via intermediate storage to an indented conveyor belt already pre-dusted with flour.
Transfer to the indented conveyor is adjustable, and lays the dough strands together or on top of one another in a tiled arrangement. This also ensures the required weight accuracy even at the junction points between the dough portions, and forms a continuous, homogeneous dough sheet. The equaliser roller arranged above it is also flour-dusted, thus preventing dough adhesion throughout the entire process.
THE PDU DECORATION UNIT'S ADVANTAGES AT A GLANCE:
High-quality products by gentle dough sheet production and processing very soft doughs with a high dough yield

Maximum flexibility regarding product shape and weight

Very precise operation thanks to a camera system

No synchronisation with other equipment is needed

Scrap is minimised

Little floor space required as the dough pieces do not require intermediate relaxation

High performance (up to 60 cycles/minute)
Michael Gier, Manager of FRITSCH World of Bakery says: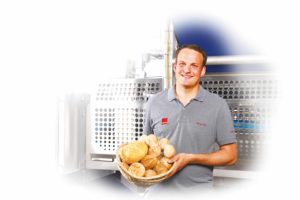 "FRITSCH engineers have always kept the whole range of products in mind. Most solutions that perform well in one area are a good starting point for another. This is true for the croissant-bending robot, for example, whose functional principle has also been applied in a modified form to the IMPRESSA bread, FRITSCH's industrial bread line since this year. This modular line has now become even more flexible with regard to the products it can produce as FRITSCH has developed a completely new solution, the PDU "Product Decoration Unit", based on the CBS croissant bending system technology. It can be used with the IMPRESSA bread to print or cut patterns on the surface of products regardless of their shape and weight. Whether it's classical Kaiser rolls, rye buns or products with a customised anniversary or football pattern – the sky's the limit.
Product quality is an important feature of the IMPRESSA bread in combination with the new decoration unit. FRITSCH SoftProcessing technology allows fully automatic production of large quantities of artisan bread rolls. To maintain the dough's sensitive structures, the IMPRESSA bread's gentle sheeting line produces only minimal stress during the entire production process. This allows for processing of doughs with a high dough yield. There are no problems even when processing gluten-free dough types or rye doughs. Highly hydrated, pre-proofed doughs have the advantage of prolonged freshness and longer shelf life. Due to the IMPRESSA bread's gentle dough sheeting and processing, the fact that the dough pieces need no proofer for intermediate relaxation before decoration not only increases the quality and hygiene standard of the products but also considerably reduces the space required for the line.
Furthermore, the decoration unit offers maximum flexibility regarding the shape and weight of the dough pieces. The new machine can emboss decorations not only on round-molded products but also on long-molded ones. In addition to molded bread rolls, the dough pieces can also be stamped/punched or cut out, then decorated with a pattern. The system's possibilities with respect to product weight are also almost unlimited. A camera system records the position of the products and aligns the em-bossing or cutting tool at right angles to the conveyor belt's travel direction. The PDU decoration unit then moves to the product's position to apply the required pattern exactly in the centre. As already in the case of the croissant bender, the camera on the PDU also ensures maximum precision during operation. The decoration system also acts as an autonomous unit, thus not only reducing interfaces and thereby synchronisation problems, but even avoiding them altogether. Thanks to the camera system, the machine operates independently from cycles of preceding components, thus minimising rejects and waste. The system's high capacity is also convincing as decorations can be imprinted and/or cut into product surfaces at up to 60 cycles/minute.
COVID-19 has impacted bread production in the way of the increasing demand for snacking bread products as focaccia or bread pizza. Also many customers ask for pizza lines as their customers buy lots of frozen pizza.
For the future of bread production we believe we will see more Artisan bread: Today's consumers are increasingly demanding for artisan-style baked products – especially on industry lines as well. Products should give the impression that they have been hand-crafted in the traditional ways of the artisanal baker. "uniformly – non-uniformly", but shape/form and weight must be exact."

Case Study: US bakery benefits from investment in Multitex4 moulder
Fantini Bakery decided that, because of its continuing growth and the need to update to more modern technology, investment in new generation moulding technology was essential. Increased output capability, lower costs, improved quality, easier cleaning and maintenance and better sanitation were all on the list of objectives. The possibility of eliminating flour dust was a particular incentive because of allergy problems within the bakery.
The purchasing process involved an assessment of the full range of moulders on the market. Fantini then installed a Baker Perkins Multitex4 moulder for extensive on-site trials, and the excellent results obtained played a key part in the decision that this machine would provide the best value. It meets all production requirements, and incorporates the latest technology. Baker Perkins' reputation for durable, solidly built equipment was also an important factor.
The new moulder provides the capacity Fantini required to make more than 20 different breads – including four-piece pan loaves in whtie, multigrain and sourdough varieties – in the 16 to 40 ounce weight range. The moulding process for small sticks including baguettes and club rolls also begins in the Multitex4.
Speed of product changeover in this dynamic multi-product setting is extremely important. Adjustments are calibrated to ensure repeatable settings with no need for lengthy set-up and constant fine-tuning by operators, avoiding the inevitable inconsistency in quality. The Multitex4 can be switched between different product styles or sizes in seconds with no start-up waste, reliably and repeatedly every time over the full product range. Labor costs are reduced because of increased output without additional operators, and the quicker changeover.

The Multitex4 meets Fantini's quality goal of a tighter grain, with smaller, more evenly distributed cells. This provides the benefit of a whiter appearance which consumers appreciate. On pan bread, the stronger cell structure provides increased resistance to tearing when applying butter, jelly or other spreads.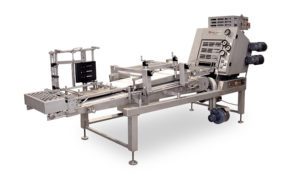 The Multitex4 moulder is easy to clean and maintain, meeting the latest standards for Good Manufacturing Practice. Cleaning is quick and easy due to the use of sanitary materials, hygienically designed components and an open construction. Sanitation is also improved by design features and prevents dough build-up and avoids sticking and smearing – even when doubles pass through the machine. 
The introduction of the Multitex4 means that flour-dust has been eliminated in this part of the bakery, with a consequent reduction in operational, cleaning and maintenance costs. The removal of dusting flour from the atmosphere provides a major health and safety benefit. Since Multitex4 was installed, the bakery has placed a large exhaust fan on top of the first proofer to prevent the dough sticking, thus eliminating the addition of flour here.
To stay up to date on the latest, trends, innovations, people news and company updates within the global bakery market please register to receive our newsletter here  

Media contact
Kiran Grewal
Editor, International Bakery
Tel: +44 (0) 1622 823 922
Email: editor@in-bakery.com