Meat has been a main source of protein for years. However, in recent times, plant-based proteins are making waves in the booming food & beverage industry, due in part to rising health and environmental concerns. Although convincing the meat-free 'meat' was a distant dream among consumers – lacking variety and quality – today, the realistic alternatives to environmentally damaging meat are becoming a big business. Moreover, the 'fake meat' revolution is unfolding in the global food industry, and pea protein is leaping in popularity among manufacturers of meat, dairy food and seafood substitutes.
As pea has made headway as a highly potential source in the alternative proteins market, incumbent companies as well as new entrants are preparing to ramp up supply and solidify their place in the market. Considering growing consumers' interest in plant-based protein options, food manufacturers are focusing on capturing the new opportunities. The result is expected to lead to increased demand for pea protein.
In response to the rise of vegan culture and strong desire of products such as plant-based protein beverages and protein snacks, industry leaders are rolling out a wide range of products using pea protein. Several food guides have further highlighted the nutritional benefits of plant-based proteins such as pea, soy, and wheat; of which peas do not carry certain concerns including allergies or gluten-intolerance associated with soy and wheat protein. In the view of greater consumer awareness, especially in the developed regions, and rapid launch of products with pea protein as the start ingredient, supermarkets and convenience stores are catering to newer demands. Moreover, some retailers are developing their in-house varieties of food products with pea protein as a primary ingredient.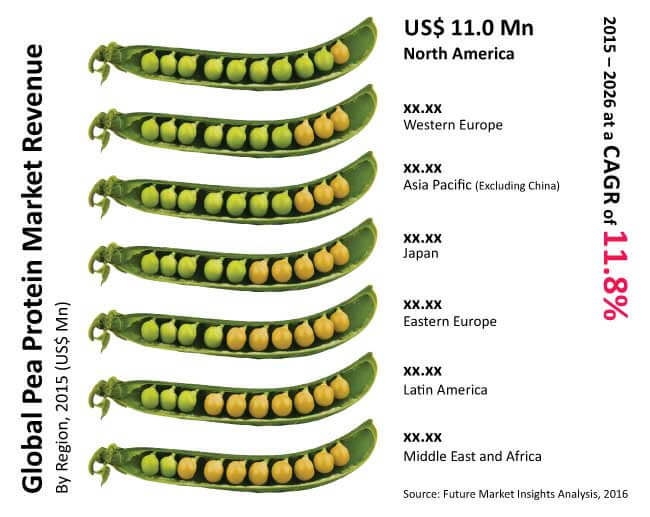 Pea protein isolate continues to account for relatively high sales, owing to its over 90% protein content which is isolated from other components of pea. Amid the rise of 'free-from' trend, texturised vegetable protein has been garnering traction, as it comes without fat and has no cholesterol, thereby influencing the demand for texturised pea protein.
Apart from vegan culture, consumers' predilection for natural ingredients, clean label products, and organic variants of food has brought a radical upheaval in the F&B industry. In an attempt to maintain supremacy in the future of food, several companies are creating their own supply chain, working closely with farmers, and focusing on developing its proprietary process of cleaning peas and extracting the protein.
Although popular food outlets had been relatively slow to react to meatless trends, they are focusing on introducing plant-based options to their traditional menu items. Strong focus is also being placed on organic pea protein and 'meaningful' plant protein blends to stay ahead in the market. However, greater marketing campaigns and awareness among consumers in low- and mid-economies along with compliance with stringent food regulations will require for the pea protein market players to reach new heights in the foreseeable future.