International Bakery look at the latest developments in dough handling, conditioning and production which enhances flexibility and functionality and improves high-speed commercial processing.
One of the goals of the mixing process in breadmaking and bakery is to achieve an optimum and proper balance of dough handling properties. The four major dough handling properties are extensibility, elasticity, resistance to deformation and stickiness. In general, a dough should have good extensibility and just enough elasticity to retain gasses yet expand sufficiently during proofing and baking (oven spring) while retaining its original or desired form. Similarly, a dough should have as little resistance to deformation as possible to allow for a proper moulding while preserving the "delicate" cell structure. The balance between elasticity and extensibility may of course change depending on the product and dough needed. For example, hearth breads require good extensibility and good elasticity otherwise the loaves could flatten out rather than bake up high and round. 
Bakers have long been challenged by two seemingly contradictory priorities: 1) deliver the consistent product quality consumers expect in spite of fluctuating gluten levels in wheat flour and the demands of high-speed manufacturing lines, and 2) remove artificial-sounding ingredients, such as DATEM (diacetyl tartaric acid ester of monoglycerides), which many shoppers want to avoid. Now, Corbion is expanding its Pristine range with a new consumer-friendly dough strengthening solution that lets them accomplish both at the same time.  
New Pristine 3000 is Corbion's most robust dough conditioning innovation yet, allowing bakers to create dough with the overall strength and tolerance needed to stand up to today's high-speed commercial processing. Providing the kind of outstanding functionality that has historically made DATEM an industry standard, Pristine 3000 also reduces the need for adding costly vital wheat gluten, which often subjects bakers to volatile pricing and supply issues. Even with protein-deficient flour, the new solution produces dough with optimal machinability that results in high oven spring, soft texture and overall consistent quality in the final product.  
"This breakthrough solution is the direct result of Corbion's on-going commitment to, and investment in, innovation in dough conditioning and baking technologies," says Kathy Sargent, Director of Global Market Strategy at Corbion.  
"Pristine 3000 helps bakers achieve the very specific qualities and eating experience their customers expect each and every time they purchase their favourite products. And consumers will now be able to feel even better about those products knowing they contain fewer ingredients they don't understand." Corbion has also added to the versatility of its portfolio with the recent introduction of Pristine® 2200, a conditioning system replacement designed specifically to enhance mixing and machinability, and to provide greater tolerance and dough strength even when protein content is substandard, or when gluten reduction is a goal. And for those who need a drop-in solution, Pristine 100 G can be added on top of bakers' existing dough conditioning systems to reduce or eliminate supplementation with vital wheat gluten, without compromising gas retention during proofing, volume and oven spring. 
"These new solutions give our customers flexibility in choosing highly effective, consumer-friendly alternatives for solving today's processing and quality challenges," Sargent says. "Whether they choose to keep their current dough conditioning system or replace it altogether, bakers can now deliver a product with all the qualities their customers expect and the kind of ingredient list they want." 
FRITSCH on dough handling 
Michael Gier is a trained baker. Following his first schooling, he became a qualified food processing technician in Kulmbach. Gier then joined FRITSCH in 2006. Initially, his main job was commissioning lines worldwide. Over time, his duties gradually shifted towards dough technology and product development. 
Michael Gier, Manager World of Bakery at FRITSCH Bakery Technologies says: "Technologies are constantly being developed further to shape the doughs even more gently and to put even less stress on the structure during this process. In the bread sector, our FRITSCH SDS (Soft Dough Sheeter) and the PDU (Product Decoration Unit) are future-oriented developments. The SDS is especially gentle at processing incredibly soft and pre-proofed doughs. With the PDU decoration patterns can be printed or cut into the surface of products. Thanks to a camera system, the decor is applied exactly in the centre of the product. In addition, the lines are becoming more compact and flexible and should be easy to operate. 
Gier continues: "The LAMINATOR 700 is a true master at laminating puff pastry, croissant, short and Danish dough types in perfect and consistent quality. However, it can do far more. The universal version can also handle soft dough types required for rustic baked goods with ease." 
For laminated dough types fine and uniform layers are essential; for other dough types the most important thing is to maintain the delicate pore structure. "The LAMINATOR 700 guarantees a continuous, uniform high-quality dough sheet," says Gier. "The gentle dough handling in accordance with the FRITSCH SoftProcessing principle guarantees products of outstanding quality. We also paid particular attention to high availability and easy handling." 
Central control and automation of dough production lines like the LAMINATOR 700 means reduced manual labour as one person can make the changes that are needed: "All the important components of the LAMINATOR 700 can be easily removed without special tools. This ensures swift and easy (re)fitting and quick product changeover. The line can be operated by one person thanks to the central control of all units by touchscreen panel. Every section can be controlled individually and in combination with others. Customised production programmes which can be selected ensure a high degree of automation," he explains.  
"Our LAMINATOR 700 can now be configured with even more flexibility thanks to our 'Low-Stress' dough sheet former. The use of a TBP is ideally suited for the gentle shaping of doughs with a TA of 145 to 175. The combination of a LAMINATOR 300 with the dough sheet former DS is particularly recommended for firm doughs that don't require any proofing times." 
In addition to the gentle processing of the dough, high system availability and ease of operation is also of great importance. An automatic, permanent cascade control now makes operation even easier. The tedious calculation of the individual percentage values is no longer needed and due to factor chaining, manual input is no longer necessary for individual drives. When controlling the LAMINATOR 700, Gier says it is only necessary to set the power and number of layers that you want to create; all subsequent adjustments are calculated automatically.  
Gier outlines the advantages of the LAMINATOR 700: "It has a new combination option: Now also with the dough sheet former TBP. There is a maximum ease of operation thanks to the new cascade control system, where the belt speed regulates itself in accordance with the speed of the guillotine, the adjustment of folding and layer widths which means after entering the target and actual values, relevant, dependent values are adjusted automatically and the weight adjustment is done by setting the actual and target weight directly at the calibration head. 
"Display of the components in 3D optics and display of all important values at a glance thanks to the new visualisation and the new grease pump enables the creation of an even more uniform grease band due to improved flow properties," he says. 
Gier was first in charge of installing and commissioning dough technologies and later joined the team of dough technologists at the World of Bakery. His speciality? The croissant, of course. The fact that there is not just one kind of croissant has always fascinated him about this pastry. 
"The product has conquered the entire world, in many different interpretations: straight, curved, closed in a circle, filled, unfilled, or soft. Whichever country I travel to, the croissant is a new challenge every time, " Gier enthuses. 
The most exotic croissant he has produced so far, together with a friend, was a matcha croissant for the Japanese market. The IMPRESSA croissant machine can be used to produce the entire diversity of croissant variations. "FRITSCH is the croissant specialist in the branch," Gier emphasises. "We can produce any type of croissant with the most diverse fillings and in high quality on our lines – from the artisanal baker's machine to the industrial line making more than 60,000 pieces per hour. With the help of a FRITSCH machine, bakers can produce the croissants of their desires," Gier says. 
Croissants are pure emotion. To make a croissant, everything must be matched perfectly: crumb, leafing and high-quality ingredients. The shape, filling and size are parameters that can be perfected on a machine that is gentle on the dough – whether making a 20-gram mini croissant or a 120-gram giant. Chocolate, fruit, chicken, or ham and cheese are all suitable fillings. The wealth of possible shapes and variants enriches every product range. "We can produce any croissant shape a customer wants using our CBS bending robot," Gier says enthusiastically. 
Yanling Yin, director, bakery applications, Corbion says: "Corbion is constantly researching and developing ways to bring forth stronger and more dynamic dough handling/conditioning solutions.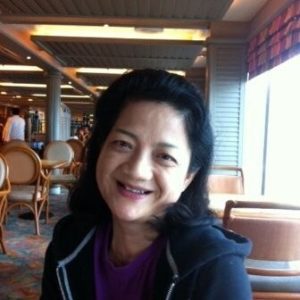 The addition of the innovative Pristine 3000 to Corbion's portfolio of dough conditioners, allows bakers to eliminate barriers to product consistency by improving dough tolerance to inconsistencies throughout the automated production process. Additionally, Corbion's Pristine 3000 can be used to replace traditional strengtheners like DATEM (diacetyl tartaric acid ester of monoglycerides) and decrease the need for vital wheat gluten, leading to a cleaner label and helping to rein in costs. 
During the automated baking process, mixing, proofing and stability are key challenges to working with dough.  To overcome these challenges and provide consistent finished products to customers, the inclusion of traditional improvers, such as DATEM, are often added to dough.  With advanced enzyme technologies, clean label solutions, like Corbion's Pristine 3000, are now available to use. 
Greater automation in dough handling processes allows commercial bakers to have much more control over the inputs used, so there's no risk of overusing or underusing ingredients, which leads to more consistent dough handling. Additionally, fewer labor hours are needed to make the product.   as well as the ability to oversee human contact with products. 
At Corbion, we see the market moving toward automating the commercial baking process as much as possible, which helps with the continuing labour shortage and increasing production costs. Additionally, the demand for clean label dough conditioners will continue to increase." 
Michael Gier, Manager World of Bakery at FRITSCH Bakery Technologies says: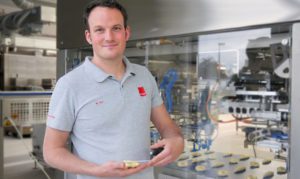 "There is the new operating concept of our lines. This enables the system operators to intuitively handle the system through factor linking and cascade control. In addition, we make it easier for our customers to train new employees and reduce the need for individual training. 
In addition, problem areas and causes of malfunctions must be recognised in order to learn from this data and derive optimisation potential. We are currently in the process of launching a new solution. The structure of the dough should be preserved by minimal smoothing during processing.  
Simple and logical operation is essential for customers. Automated products should also have an artisanal look. FRITSCH offers the whole range – from manual through semi-automatic up to industrial solutions. 
In the area of dough sheeting, the ROLLFIX machines are available to our customers in the artisanal sector. In the medium-sized segment, our LAMINATOR 700 or DOUGHLINER form a continuous dough sheet. Correspondingly, we offer a variety of processing lines for this segment, depending on which products the respective customer wants to produce.   
For industrial customers we have our fully automatic IMPRESSA lines. From bread and croissants to pastries and pizzas, the lines are specially designed for the respective products.  
Top quality is characterised by the uniform shape and weight of the end products. The handcrafted look of the products and thus the full enjoyment experience for the end customer is not lost. 
These high-quality end products should also be reproducible for unskilled employees using easy-to-operate equipment. We see a trend towards breads made from soft doughs with long pre-fermentation time of up to 24h. Of course, this places special demands on the lines."
 
Terry Bartsch – Product Group Leader, Dough Systems, AMF Bakery Systems says: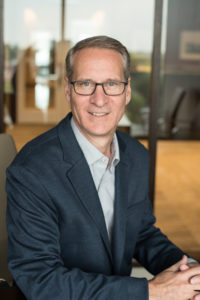 "Most common automated dough handling systems are dough chunkers with transfer conveyors, dough pumps with pipe or transfer conveyors, dough trough and trough elevators integrated to the receiving hopper.  
Technological improvements on dough belts like introducing low tension and zero pretension systems allow manufacturers to introduce new conveyor designs eliminating many previous technology issues like belt tracking, dough release, premature bearing wear, product cross contamination, dough scraper adjustment, etc. AMF has introduced a number of sanitary design practices along with these new belt technologies to make dough transfer conveyors even more efficient while lowering the cost of ownership.  
AMF offers both semi-automated and fully automated fermentation rooms within the dough system. Fully automated fermentation rooms can help bakers manage troughs and the required fermentation time. Mostly offering labour savings since they still require dedicated floor space. The environment can be controlled as needed to provide constant conditions. Such rooms also protect fermentation sponges from ambient contamination for improved food safety. Automated systems will move troughs from the beginning to the end of the fermentation cycle inside the room. Those rooms are generally a first in first out type of system and do not allow operators to extract a specific trough once it has entered the fermentation cycle.  
We see a continued push for sanitary design, increased focus on sustainability initiatives, digital AI solutions to better monitor and maintain dough parameters without operator intervention."  
Image credit:
To stay up to date on the latest, trends, innovations, people news and company updates within the global bakery market please register to receive our newsletter here. 

Media contact
Kiran Grewal
Editor, International Bakery
Tel: +44 (0) 1622 823 922
Email: editor@in-bakery.com