Reiser UK, MONO Equipment and Brook Bakery Solutions offer up an alternative to traditional handmade baked goods, with the use of new innovative automation depositor machinery
The bakery sector is seeing unprecedented growth in handmade, artisan products that boast clean labels and natural ingredients. However, thanks to technology, the consumer demand for these products are now possible with developed depositing machinery which can add a delicate touch and intricate shapes and colour mixing. Tasks that are often extremely labour-intensive and time consuming, can now be achieved through automated processing that gives consistent and beautiful results.
It was during the 1960's era of unbridled product innovation that MONO Equipment's founder, Ayres Jones, was inspired to design a machine which would expertly replicate the traditional time-consuming and intricate hand movements of the master confectioner. His aim was to design a machine which would  produce a range of confectionery items with consistency and accuracy. 
Jones' ingenuity and passion for invention resulted in the creation of MONO Equipment's first ever confectionery depositor, the essence of which has been copied across the globe ever since.  
Over the ensuing decades, a long line of depositors was designed as MONO continued to develop, refine and innovate its range to meet the ever-changing demands of its customer base. Each new release took advantage of the technology available at that time to help make the depositor more user-friendly, efficient and accurate. For example, in 2010, a small tabletop depositor, the Epsilon, was specifically designed to address the needs of the small artisan Patisserie shops in France due to their limited space and their need for pin-point accuracy in depositing macarons etc. The Epsilon soon became a firm favourite due to the fact it could be carried through a regular doorway and plugged in  to a standard 13amp socket, which meant it was also ideal for small basement bakeries with limited access. 
Today, MONO's depositors are renowned across the world for the exceptional efficiency, accuracy and consistency of their depositing. The much-loved Omega range of depositors is a firm favourite with confectioners and patissiers and can be found throughout Europe and as far afield as Australia, Brazil,  Canada, Dubai, India, Japan, New Zealand, Russia and the USA. MONO Equipment is one of the leading designers and manufacturers of bakery and food service equipment in the United Kingdom and supplies many of the UK's leading supermarket chains, independent artisan bakers, hotels, restaurants and retail outlets.  With an established reputation within the industry for creating high quality, innovative products.
A sophisticated depositing system
The latest addition to the depositor range is the state-of-the-art, industrial standard, Universal 3D-X which not only provides the ability to deposit up to three different mixes simultaneously but also features a sophisticated depositing system which moves on all axes to create an almost endless variety of truly complex shapes. So for example, products like multi-layered tray bakes, consisting of vanilla, chocolate and strawberry sponge, can be deposited in a single pass; two-colour cupcakes can be deposited with a third accent colour dotted on the top in a single pass; checkerboard style cookies in two different colours can be wire cut and even complicated shapes like a pretzel can be created. 
The inclusion of a set of combi-gears also means that both soft and hard mixes can be deposited using the same basic setup making the Universal 3D-X depositor the ultimate solution for discerning businesses  who wish to be truly creative in their product development. 
Over half a century has passed since Ayres Jones' dream of creating a machine to mimic the hand movements of the master patissier became a reality; MONO is proud to have built on his groundbreaking achievements and will continue to drive innovation in this highly creative sector.

Reiser supplies a variety of Vemag bakery equipment for all types of applications and production requirements. The Vemag is an incredibly versatile machine that combines the highest levels of portioning accuracy, speed and product quality.
The Vemag is a single machine that incorporates many innovative attachments specifically designed for bakery applications. Each Vemag attachment is carefully designed to produce consistent, high-quality bakery products. Attachments can be easily swapped out in minutes so that you can produce a variety of different products.
James Fitch, Sales Manager at Reiser UK says: "Reiser supplies the Vemag range of depositors and extruders to the bakery industry. Our equipment offers industry leading depositing accuracy, hygienic design and versatility to allow us to handle a huge range of different products. The heart of our machine is our double screw system, we are the only equipment supplier in the world to use this technology for bakery products. Our range of attachments for the Vemag can deposit, divide, sheet cake, cookies, biscuit, pastry, fillings and dough. We are unique in our ability to process this range of products with one machine.
"Critical in dough depositing or dividing is delivering accurate weight portions without damaging the structure of the product or any inclusions, The Vemag double screw system delivers industry leading weight control and can be linked to an inline checkweigher which allows us to keep standard deviation low with dough products containing yeast for example, whose volume and density changes constantly due to the yeast activity while the dough is in the hopper.
"Sticky or wet dough's can be very difficult to separate and have a tendency to stick back together after depositing, When using an attachment such as our VDD which uses a rotating knife to cut product we can tailor the speed of this dependent on product characteristics to consistently separate portions and eliminate doubles which can foul downstream equipment such as rounder's.
"We have a wide range of double screws to choose from which allows us to handle inclusions gently without damage," he says.
Product versatility is a key bakery trend
Simon Lawton-Hayes, Bakery Technical Specialist at Brooks Bakery Solutions, gives us more insight about his take on trends and why the Polin Multidrop is an ideal machine to consider now and at any time to handle product versatility.
Lawton-Hayes has over 30 years of experience in the Baking industry which has varied from large scale manufacturing, development of products to writing and delivering retail training programs. He has a wide range of skills that vary from baking his own products to researching into other projects, recipe and ingredients development and bakery products.
Over the past year people have started to look at their eating habits differently, trying to be healthier and putting the right things in their body, this is mostly due to the pandemic. Due to COVID 19, there has been a greater urgency in the need to purchase food that is free of additives and artificial ingredients. Food that fuels their bodies while supports a healthy lifestyle, also boosting their immune systems.
It's been shown that even though trying to eat healthier during this time has risen, the statistics for comfort foods have followed this rise. With consumers more stressed than before, people are turning to food and drink to indulge.
With this in mind, what could be better than getting some of your nutrients as well as having one of your treats? Not only can the Polin Multidrop help with slightly healthier treats it can also help with the current increase in indulgent treats.
"Imagine the possibilities of having a machine that can be so multipurpose that it can make all your loaf cakes, muffins, meringues, cupcakes and cookies but can also help with your innovation with new products too. Indulgent treats or comfort foods are making a real difference to people during these uncertain times. The Polin Multidrop could make luxurious macaroons with ease and consistency across weight and finish, adding a different dimension to your bakery display with the colour and vibrancy only macaroons bring," says Lawton-Hayes.
It's not just new and old habits that have changed over the past year, businesses are having to work differently to their usual schedule to make everything come together easier during these unsure times.
As most people are aware, small businesses of all types have struggled through the period of the pandemic. People are trying to support local businesses where possible and as many as 71% stated they would buy food that was locally sourced, even if they couldn't get everything they needed to support smaller businesses.
Investing in improvement of quality, or automating part of your production to ease the load on demand would help massively. From utilising retarder provers to speed production initially for the morning's delivery pinch points, to increasing capacity of baking with a new oven.

The speed and ease of production using the Polin Multidrop depositor allows you to free up time to spend on innovation and allows your creativity and imagination a free reign. From trying new products you never had the time to make, or now having the time to try new flavours, having a machine that is so versatile and efficient will add a different dimension to your product range.
James Fitch, Sales Manager at Reiser UK says: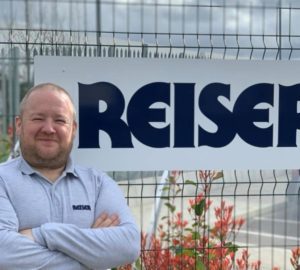 "We constantly refine and redevelop our equipment to work with new products or tweaks to existing ones. Our bakery equipment can handle doughs with differing hydration levels such as stiff bagel dough, gluten free or Irish wheaten and soda bread with hydration levels of + 100%.  At our Vemag manufacturing facility in Northern Germany we have more than 50 people working in research and development roles to continually evolve our equipment.
We have recently developed and supplied attachments to produce layered protein bars and filled protein balls, our aim is to partner with our customers to provide solutions to their needs and help them bring products to market.
Requirements from our customers to be able to offer products with health benefits or special diet products such as gluten, wheat and dairy free or high protein variants is increasing. These products often have higher hydration levels than traditional bakery products or contain non-traditionally used ingredients that can make them sticky and difficult to handle. Conversely high protein products can be very stiff and impossible to run on traditional bakery equipment. Our equipment is unique in its ability to accurately divide and deposit mixes such as these and we have a range of attachments for our Vemag depositor and divider which makes our equipment versatile and flexible to be able to work with a range of products."
Simon Lawton-Hayes, Bakery Technical Specialist at Brooks Bakery Solutions says: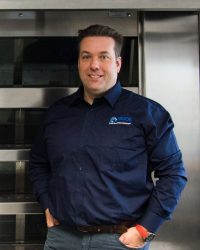 "With health and immunity being the top priority for most consumers in this current climate, the Polin Multidrop depositor offers the capacity to add superfood inclusions to your products like blueberries, flaxseeds and oats for example, to offer tempting indulgent treats with a healthy twist. The machine is versatile, quick and portions equally to minimise waste and maximise profit. It also reduces manual handling and speeds up production, easily depositing a tray of muffins in under a minute.
People are relaxing and unwinding with food, using sweet treats as rewarding is nothing new. In this climate, our desire to escape the everyday has grown.
Anything you can do with a piping bag, the Polin Multidrop can do, but with greater accuracy, consistency and efficiency than the human hand. Picture planning your production, but with effortless speed. It could pipe cake batter into cupcake moulds, then when baked and cooled could pipe the buttercream twist on the top to finish them off. After doing that, it could pipe the batter into muffin moulds, and when all that was finished, could then wire cut some shortbread biscuits or cookies. It is also happy piping meringue nests too or how about some macaroons or tray bakes? Ramping up production with minimal effort and manpower is easy, just let the Polin Jr depositor help you save time, and manual handling by simplifying your work."
Feature image credit: MONO Equipment
To stay up to date on the latest, trends, innovations, people news and company updates within the global bakery market please register to receive our newsletter here  

Media contact
Kiran Grewal
Editor, International Bakery
Tel: +44 (0) 1622 823 922
Email: editor@in-bakery.com